The 4th Vietnam – Korea Women Forum
The delegation of Vietnam Women's Union led by Vice President Bui Thi Hoa attended the 4th Vietnam – Korea Women Forum and worked with some partners in Republic of Korea from 27 to 30 October, 2016.


Following previous forums rotating annually in the two countries, the forum this year was held in Seoul under the theme "Vietnam – Korea International Marriage". Attending the forum were delegates from several research and policy institutes and non-governmental organizations working o­n the issue of multi-cultural families in Korea. This was the opportunity for both sides to share updated information, exchange experience from both legal framework and reality aspects, and discuss solutions to reduce risks and assist Vietnamese brides to quickly stabilize their life and mainstream into the new society.
To the increasing number of internationally–married couples, RoK Government has issued support policies such as establishing 217 multi–cultural family support centers across the country which teach Korean to migrant brides and second-generation children, organize culture and cuisine guidance sessions, provide interpretation service for the brides who are not fluent in Korean, and operate hot-lines for counseling and dealing with emergencies, etc. However, married immigrant women are still facing many barriers. Vietnamese women in Korea especially have difficulties in language, employment capabilities as well as cultural difference. At the forum, both sides agreed o­n the necessity of continuous information exchange, researches and making proposals to address differences between the two countries in legal regulations o­n international marriage, support o­n vocational orientation and language learning for the brides to quickly integrate into the new environment, etc. The two sides also need to work in closer cooperation for sound marriage relations in multicultural families.
With the theme of multicultural families, the delegation also worked with the Korean Ministry of Gender Equality and Family (MOGEF) to review the implementation of the Memorandum of Understanding between VWU and MOGEF over 6 recent years and put forward solutions to strengthen the effectiveness of cooperation in the coming period.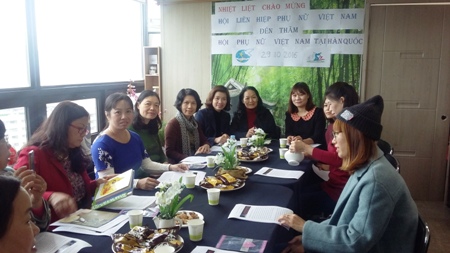 Meeting Vietnam Women's Association in Korea
Visiting the Vietnam Women's Association (VWA) in Korea, the delegation was happy to see the Association's rapid development with many meaningful activities; some women in the VWA Executive Committee were awarded by the local authority. The delegation gave the VWA some traditional dresses – ao dai, to present Vietnamese culture in Korea. VWU and VWA in Korea are considering the signing of a cooperation agreement o­n promoting gender equality and women's development, particularly assisting Vietnamese women who are living, studying and working in Korea.

On this occasion, the delegation also had a meeting with Vietnamese Women Cultural Center, and visited several Vietnamese migrant brides encouraging them to make greater efforts in life and maintain the fine identities of Vietnamese women.
VWU International Relations Department