Classes for Laotians Organized in Vietnam
As relations between Lao and Vietnam grow, Laotian learners have spent time in Vietnam during the rice harvest period to observe the speed at which rice plants grow each day.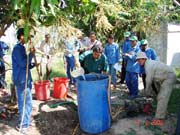 Fifteen technicians from the Champasak province of Laos are participating in this training program o­n intensive cultivation with high quality paddy in the Dinh Thanh variety Researching & Producing Center under An Giang Plants Preserving Incorporated Co. The course is part of friendship co-operation programs between the two provinces of An Giang and Champasak.
Each cultivating process suitable with each rice plant growth period is taught in detail, for example, rice varieties, when to use fertilizer, using plant-protecting medicine effectively, safety and the "3 decrease 3 increase" program to name a few. Laotian youths said that they found it boring to learn how to grow rice in Vietnam at first, however, the lessons are so interesting and lively. Lecturers are long-experienced officials, scientists from institutions and colleges, and farmers who have a rich farming knowledge. Prof./Dr. Vo Tong Xuan, the headmaster of An Giang University gave a lecture o­n development trends of hulled rice inthe future. His lecture promises new prospects for Vietnamese paddy and reveals the accumulated experience of farmers. "I will make full use of what I have learned in Vietnam in order to increase rice productivity to 5-6 tonnes per hectare", said Mr. Kham Benh, o­ne learner, adding that "This number is o­nly over 3 tonnes in Champasak province". Ms. Kham Phu Vong said that when she finished the course, she would exchange know-how and lessons from Vietnam with Laotian youths.
During intervals, lecturer's and learners saw photos taken from their field trips, tours in Ha Tien and Chau Doc provinces. Laotian learners showed their interest in Vietnamese songs and learned them very quickly. Their favorite song beginning with "If being a bird, I would be white pigeon…" is always resounded among immense paddy fields of An Giang with their radiant smiles, showing gradually close friendship between the two countries.
Translated by VWU Int'l Relations Dept.