Women's union seeks support for female workers at IPs, EPZs
HCM CITY — More support policies are needed to improve female workers' income and living conditions, said Deputy Chairwoman of the Việt Nam Women's Union Nguyễn Thị Tuyết.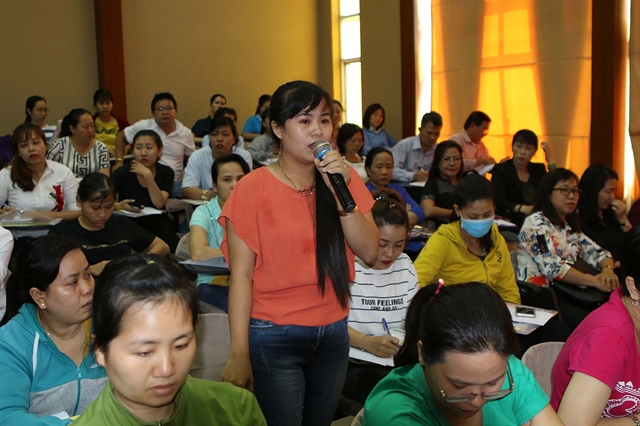 In recent years, the Party's guidelines and State policies have helped improve their wages, incomes and life quality.
"Gender equality, trade union activities, or the building of cultural institutions are issues that are now receiving greater attention from enterprises and trade unions, along with local and central governments, in order to well implement the Law o­n Gender Equality," Tuyết said.
However, female workers still face issues such as overtime work, low income, housing needs, and healthcare and childcare for their children.
"There is a high demand for kindergartens and preschools," Tuyết said at a recent dialogue held at the Tân Thuận Export Processing Zone to seek ways to improve working conditions for female workers at industrial parks (IPs) and export processing zones (EPZs) in HCM City.
According to a survey of the Việt Nam General Federation of Labour, more than 52 per cent of female workers in IPs and EPZs have children aged under 36 months who need day-care.
About 19 per cent of them send their children to public kindergartens and preschools, while the rest have to choose private kindergartens and preschools or home-based nurseries, which often have poor quality.
Bùi Thị Hoa, a worker at Furukawa Automotive Parts Việt Nam Co Ltd, said she had sent her child to Tân Thuận Export Processing Zone Preschool in District 7. "It is near my workplace, so this makes me feel safe and secure," she said.
The school has set up additional sessions for workers' children between 4.30pm and 5.30pm from Monday to Friday, and between 7.30am and 5.30pm on Saturday.
"Kindergartens should have more flexible work hours to meet the demand of workers for overtime work, night-shift work, weekends and summer holidays," Hoa said.
More kindergartens and schools in and near IPs and EPZs should be built, according to many workers.
Nguyễn Thị Nhung of the Việt Nam General Federation of Labour said the federation had launched a project to build kindergartens, supermarkets and cultural and sport facilities in IPs and EPZs.
"This will contribute to improving the lives and physical and spiritual health of female workers, and protect their legitimate rights and interests," she said.
The federation is also implementing healthcare services and breast milk storage, and providing consultancy o­n reproductive healthcare in IPs and EPZs.
Lê Thanh Liêm, deputy chairman of the municipal People's Committee, has asked the health and education sectors to ask enterprises to take part in building schools and ensuring food safety and health care for female workers and their children.
"Trade unions must take the initiative to fully understand the needs and aspirations of workers," Liêm said.
District people's committees should also strengthen responsibilities in ensuring regulations and requirements of childcare services at private schools.
The dialogue was organised by the Việt Nam General Federation of Labour, the Việt Nam Women's Union, and the city's People's Committee. — VNS.