Understanding women's needs to represent and care for women more substantially
A delegation of the Central Steering Committee headed by Politburo member, Secretary of Party Central Committee (PCC) and Head of the PCC's Commission for Mass Mobilisation, Ms. Truong Thi Mai, had a working with the Vietnam Women's Union (VWU) in Hanoi on April 24. The meeting focused on reviewing the 10 years of implementation of the Politburo's Conclusion No.62-KL/TW on continuing to renew the content and modes of operation of the Vietnam Fatherland Front and socio-politicalorganisations.
According to the VWU's report, over the last 10 years, the VWU at all levels have continuously renovated the content and modes of its operation in order to improve the quality and effectiveness of the women's movement and VWU's activities in accordance with each development stage of the country, contributing to well fullfilits role in caring for and protecting the legitimate rights and interests of union members as well as of women in all levels.
Speaking at the sessions, Secretary of Party's designated representation, VWU's President Nguyen Thi Thu Ha emphasized that VWU has focused o­n many new and strategic issues as well as changing its operational methods during the last time, namelythe formulation of major projects/plans relating to women, integration of the campaign of "Building a family of 5 Nos, 3 Cleans" into the National Program for New Rural Construction, thereby has increased the proactiveness of VWU while promoting women'srole and capability to be involvedin dealing with women's issues.

 VWU President Nguyen Thi Thu Ha speaks at the conference


VWU is gradually shifting from the role of direct care to connecting, supporting, promoting the potential, internal resources of women in participating in solving their own issues; promoting connection amongst intellectual women, business women, female entrepreneurs andsocial connections as well to assist disadvantaged women and women in remote and ethnic minority areas; strengthening VWU's role in researches, policy advocacy and recommendations. Activities o­n women mobilization are still ensured in a large scale while narrowing and prioritizing target groups, key and major issues.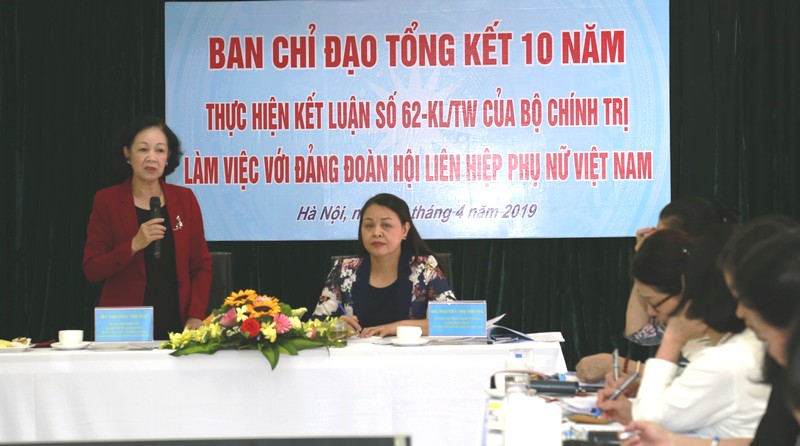 Politburo member Truong Thi Mai at the working session with VWU


In addition to appreciating the efforts and achievements of VWU in implementing Conclusion No. 62-KL/TW, Politburo member Mai urged VWU to continue to "be stronger, more substantive, more proactive, to respond faster and to create better spread in its activities".