Photos show pain caused by dioxin
HA NOI — Seventy photographs showing the damage done to successive generations of Vietnamese by the spraying of their country with defoliants such as Agent Orange/Dioxin during the American War are now on display in Ha Noi.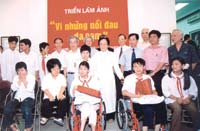 The poignant photographs, taken throughout the country by Viet Nam News Agency photographers, also depict the grit and determination of the victims and their families to overcome their adversity.


The five-day exhibition, titled The Pain of Agent Orange/Dioxin, has been organised by the VNA and as its deputy director, Nguyen Duy Cuong, explained while opening it: "In showing their very moving images, the photographers do not intend to widen the painful legacy of the war."


Instead, "Their pictures are a call for more love and support from the community.

"They embody a burning desire to see miracles for the victims who struggle so hard, sometimes hopelessly, day by day."


Cuong said the almost 80 million litres of defoliant that American servicemen and their allies sprayed o­n Viet Nam had disabled and disfigured almost 3 million people directly exposed to the chemicals.
Thousands had died and thousands knew their days were numbered because of the consequential afflictions.


Former Viet Nam Vice President Nguyen Thi Binh, who chairs Viet Nam Council for Children, Viet Nam Association for Dioxin-Agent Orange Victims Vice Chairman Nguyen Trong Nhan and child victims of Agent Orange attended the opening.


So did Viet Nam News Agency's general director, Le Quoc Trung, who handed over to the association a donation of VND15 million made by VNA's employees.


Nhan said the exhibition would help kick-start a series of activities for Dioxin-Agent Orange Victims' Day, August 10.


The idea for an exhibition dedicated to Agent Orange victims has been thought about for many years, said an organiser.

The photographs showed the enormous strength of many Agent Orange victims in the way they had built their lives. They had been selected from hundreds taken over many years. Donations are welcome during the exhibition.


At the opening ceremony, donors contributed a total of VND42.5 million (US$2,700) for the Agent Orange/dioxin victims. — VNS

Sponsors of the Pain of Agent Orange exhibition are:
The Electricity of Viet Nam; The Asian Institute of Technology, Viet Nam; The Military-run Viettel Corporation; The Viet Nam Daewoo Motor company (GM Deawoo Vidamco); The Hilton Ha Noi Opera Hotel.