NutiFood female leader reaches top 21 rising female entrepreneurs in Asia-Pacific
Dr. Tran Thi Le, CEO of NutiFood Nutrition Food Joint Stock Company, has been one of two Vietnamese women on the list of 21 rising female entrepreneurs in 2019 in the Asia-Pacific region.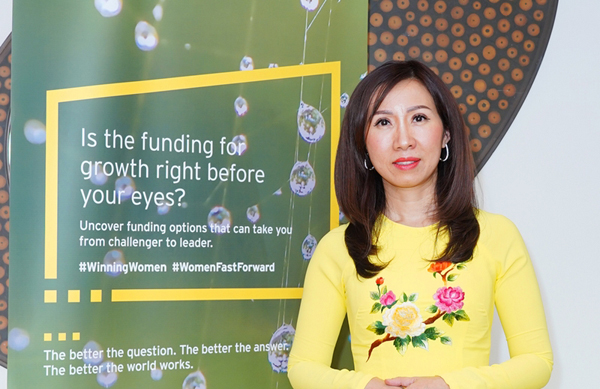 Although Dr. Tran Thi Le graduated from the Medicine and Pharmacy University, she turned her career to children's food business with a desire of contributing to the physical development of Vietnamese people. In 2000, Dr. Le became NutiFood leader as the company's Chairman and CEO.
Starting from a small facility, under the guidance of Dr. Tran Thi Le, over nearly 20 years, NutiFood has become the 3rd largest Vietnamese dairy company.

The important role and contribution of Ms. Le is most evident after she was reappointed as NutiFood CEO in later 2018. She has succeeded in guiding the company to overcome the crisis and regain its development momentum after nearly 1 year. Previously, Dr. Le left the position of CEO to focus on other projects. Although NutiFood was run by experienced people from multinational companies, the company fell into a financial crisis and had lost nearly VND 150 billion for 1 year.
Dr. Le and her husband, Mr. Tran Thanh Hai, have brought NutiFood to the world with many daring investments and cooperation activities. In early 2018, NutiFood made a surprise when it was granted FDA certification by the US to sell milk in the US market.

Dr. Tran Thi Le was also active in many activities contributing to the community development, such as supporting poor women, children, patients, and people suffering from floods and natural disasters in different corners of the country; sponsoring nutrition programs for sports and young talents. Recently, the company has been participating in the Government Program 641 to develop the physical strength and height of Vietnamese people in the 2011-2030 period, contributing to improving the stature of Vietnamese children.

NutiFood CEO Tran Thi Le passionately researched to create breakthrough products for infants and young children with a dream of eliminating malnutrition for Vietnamese children. "We look at life with the heart of a parent before an expert" she said.
Ms. Tran Thi Le was named by Forbes Vietnam among the top 10 Outstanding Young Female Entrepreneurs of the Next Generation 2015, and the top 50 most influential Vietnamese women in 2018, 2019.

The EY Entrepreneurial Winning Women™ Asia-Pacific (EWW) 2019 was convened by EY APAC and EY Vietnam Limited in Ho Chi Minh city on 8-9 April to introduce 21 rising female entrepreneurs from 7 countries in the Asia-Pacific region namely Australia, Japan, China, South Korea, Indonesia, Sri Lanka, and Vietnam.
Selection criteria for the program target high-potential women entrepreneurs whose established businesses are at least five years old, are 51% owned by women entrepreneurs and are ready to scale and develop or expand their global footprints to be market leaders.
Vietnam has 2 representatives including Dr. Tran Thi Le – CEO of NutiFood and Ms. Vo Thi Phuong Lan - Chairman cum CEO of Amerasian Shipping Logistics (ASL).