Mothers of sick children learn to support themselves with embroidery
At 7pm one evening, Lê Thị Út eagerly arrives at the library on the sixth floor of the National Institute of Hematology and Blood Transfusion (NIHBT) to study embroidery.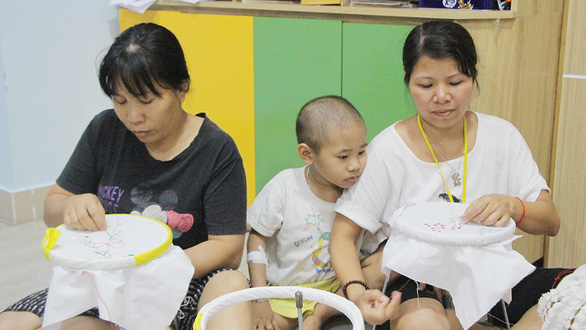 The class began in May this year for "special trainees" – mothers of child patients at the NIHBT.
Út, 35, from the central province of Thanh Hóa, has been taking care of her child, who suffers from cancer, for two years.
She works as seasonal worker in her hometown, so she does not have a steady income.
The class helps Út release the sadness and stress that comes from taking care of her child.
"Although I cannot embroider well, I still look forward to the class," she said.
Đặng Thị Phương, 41, is another hardworking trainee. The teachers say she has advanced the most in the class.
Phương studied embroidery when she was small, and then quit for a long time. Now that she has picked it up again, she is making swift progress.
Phương had to quit her job as an office worker eight months ago to take care of her sick child.
"The class helps us ease our stress and gain a little income from selling our products," said Phương. "At present, many people like traditional embroidery products."
The women learn to embroider pillows, bags and clothes. Phương hopes she can continue selling her work after the class ends.
Initiative
The class was the initiative of Hoàng Diệu Thuần.
Thuần has collected ideas from the patients' mothers since March. By May, Thuần joined with the NHIBT's social work division to invite artisans to the institute to give free training to the women.
The course lasts three months, with 10 days of study each month.
Thuần said most of the women had to quit their jobs to take care of their sick children, so they do not have any income.
"I think helping the women means that I also help the sick children," said Thuần.
To run the class, Thuần uses money from a book-selling fund designed to help cancer patients.
Thuần also called for help from artisans in the An Hòa traditional embroidery village in Thanh Hà Commune, Thanh Liêm District, the northern province of Hà Nam.
After hearing about the class, artisan Nguyễn Xuân Viết agreed to come to Hà Nội.
Viết said that after three months, trainees can do basic embroidery.
"The mothers have sick children, so I have to study each woman's character to encourage them to be patient with the study," said Viết.
Lưu Thị Hải, 33, an artisan from An Hòa Village, said that after the first day of training, the women were all eager to continue the class.
Hải said she would order products from the women, helping them earn some more money.
After witnessing the trainees' enthusiasm, Thuần believes they can overcome any difficulty.
Thuần plans to ask souvenir shops and enterprises to order products from the women. — VNS