Hanoi: pre-natal care lowers maternal mortality rate
Hanoi (VNA) – The Reproductive Health Care Centre of Hanoi reported that 99.9 percent of pregnant women have received pre-natal care, thus reducing the city's maternity mortality rate to below the national level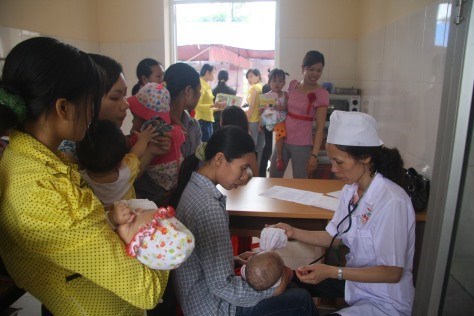 The Reproductive Health Care Centre of Hanoi reported that 99.9 percent of pregnant women have received pre-natal care, thus reducing the city's maternity mortality rate to below the national level. 
According to the centre's Director Nguyen Xuan Anh, 98 percent of new mothers and their newborn babies also receive post-delivery care.
The director reported that all hospitals and clinics across the city offer reproductive health care services, such as pregnancy examination, gynaecology check-ups and treatment and birth control methods.
All commune-level health care stations provide health and nutrition consultation along with treatment of common diseases among children. Many also offer child birth delivery, gynaecology check-ups and test samples taking for early detection of reproductive infections and cancer.
District-level health care centres, the Hanoi Oncology Hospital, and the municipal chapter of the Vietnam Women's Union jointly implemented a programme o­n cervical cancer screening among local women. 
The centre also provides reproductive health care services for adolescents and men while conducting communication work across local schools to enhance the awareness of productive health care among students.
Another key task of the centre is to monitor the development of children under five with the goal of reducing malnutrition, stunted growth and obesity. As a result, 98.1 percent children under two have their weight measured every quarter; 98.2 percent of malnourished children under five receive monthly checks, and 98 percent of children under five are given the check every year.
The rate of stunted growth among children under five in Hanoi is now 14.2 percent, and the rate of underweight children is 9 percent.
Nguyen Xuan Anh said the city is facing numerous challenges in reproductive health care for men, industrial zone workers and adolescents; as well as in tackling both malnutrition and growing obesity among children.
In order to address the situation, the centre will coordinate closer with relevant agencies and localities to expand further reproductive health care and improve population quality.

The city aims to bring down the rate of child malnutrition in terms of weight-for-age and height-for-age to 14 percent and 8.8 percent, respectively, and the rate of child obesity to below 10 percent.

http://en.vietnamplus.vn/hanoi-prenatal-care-lowers-maternal-mortality-rate/104929.vnp