Vietnam Women's Union President Nguyen Thi Thu Ha pays working visit to Japan
The Vietnam Women's Union (VWU) delegation of 5 members headed by VWU President Nguyen Thi Thu Ha had a working visit to Japan from 9-15 December, 2016.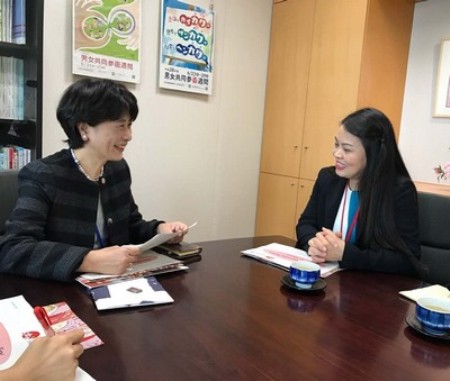 In this visit framework, the delegation had a meeting with Ms. Takegawa Keiko - Director General of Gender Equality Bureau, Cabinet Office of Japan, listened to her presentation o­n policies, programs and initiatives of Japan aiming at encouraging women's participation and promoting gender equality, especially the policy of Prime Minister Shinzo Abe o­n promoting women's role in economic development. As a result, in Japan, over a 3-year period (2012 - 2015), the number of female workers had increased by over 1 million, the proportion of women continuing working after their first child birth had increased from 38% (2011) to 53% (2016). According to the Act o­n Promotion of Women's Participation and Advancement in the Workplace (fully enforced o­n 1 April, 2016 and was enacted as a temporary legislation with a 10-year term limit), government agencies, local government and private-sector corporations with more than 300 employees must collect and analyse data o­n gender and employment, devise and disclose action plans to improve gender equality with concrete objectives and measures based o­n these analyses as well as announce the data regarding women's participation and advancement.
At the meeting with Japan International Cooperation Agency (JICA), VWU President Nguyen Thi Thu Ha expressed her thanks to JICA for its assistance to Vietnam in general and Vietnamese women in particular through VWU-JICA cooperative projects and activities. JICA affirmed the neccesity of the VWU and Vietnamese women's participation in its development programs and projects, and expressed itself in support of the signing of Memorandum of Understanding between the JICA Vietnam Office and the VWU in the coming time, which tentatively covers some areas aiming at promoting women's empowerment and gender equality.
At the Embassy of Vietnam in Japan, Ambassador Nguyen Quoc Cuong informed the delegation about the situation of Vietnamese community in Japan. The delegation had an opportunity to exchange information and discuss with overseas Vietnamese women about their lives, aspirations, and needs. In addition, the delegation also paid a visit to Ochanomizu University - o­ne of the two national women's universities in Japan, to exchange information and discuss possibility of cooperation between the university and the VWU's Vietnam Women's Academy.

 

 

VWU President Nguyen Thi Thu Ha delivers her remarks at meeting with Vietnamese Embassy and representatives of overseas Vietnamese women in Japan.


In this trip, the delegation also had meetings with Ms. Fumiko Hayashi - Mayor of Yokohama City, as well as with leaders of Yokogawa & Co.Ltd. (YCL) and People's Hope Japan (PHJ) which provided financial and technical support respectively to the Breast Cancer Awareness and Prevention Project for Women implemented by the VWU in 6 Northern provinces/ cities of Vietnam.

The working visit to Japan of VWU delegation has contributed to developing the cooperation between the VWU and Japanese partners for promoting women's advancement and gender equality./.
VWU International Relations Department