US non-governmental scholarships awarded for poor female students
Recently, the Vietnam Women's Union (VWU) organized the 2019 scholarship award ceremony for poor female students who overcome difficulties in Cao Bang province.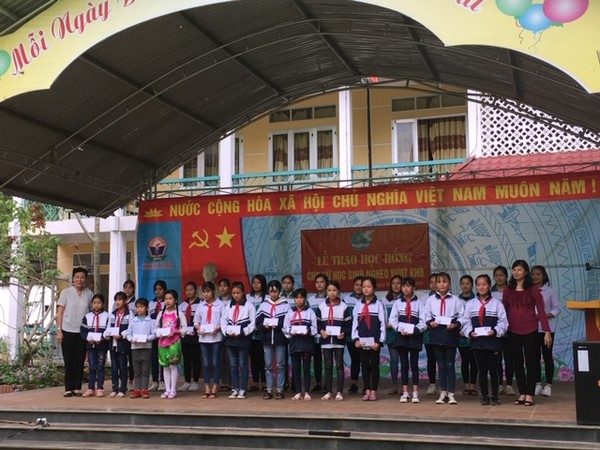 As a socio-political organization, representing and protectingwomen of all strata and participating in community development, the VWU always cares for and implements humanistic and practical support programs, such as mobilizing resources from domestic and foreign individuals and organizations to award scholarships to disadvantaged students, who always strive to overcome difficulties, and study to achieve good academic results.
In 2019, with the support of the US Non-Governmental Scholarship Program for poor female students, the Central VWU together with the Cao Bang Women's Union selected and awarded scholarships to 46 poor female students, who achieved good academic results in the two disadvantaged border communes of Cao Bang province, including Cai Vien commune, Ha Quang district and Phong Nam commune, Trung Khanh district, with VND 2,000,000/student, making up to VND 92,000,000 in total.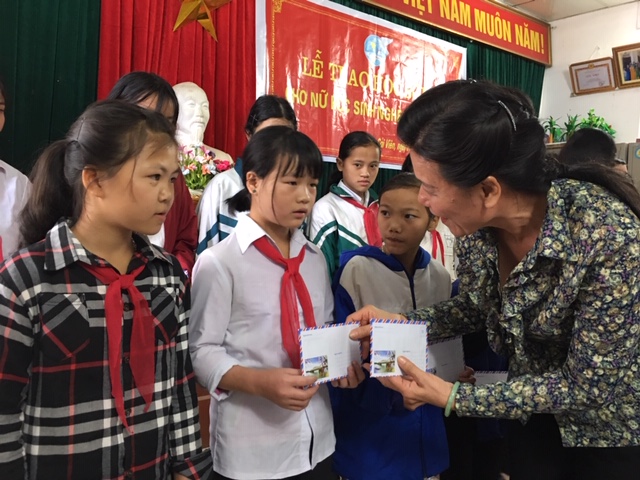 VWU Vice President Nguyen Thi Tuyet awarded scholarships to female students in Cai Vien commune, Ha Quang district



At the ceremony, VWU Vice President Mme. Nguyen Thi Tuyet expressed her sharing, sympathy and also highly appreciated the efforts of the two communes, the schools and the students to overcome difficulties. These two communes have extremely difficult socio-economic conditions, complex areas, long border lines. The poor households and near-poor households in these areas account for a high percentage. Vice President Nguyen Thi Tuyet congratulated the female students who were honored to receive scholarships this year, and hoped that the gifts would help them and their families to lessen the burden of study expenses and reducing the difficulties to continue going to school, nurturing and realizing their dreams. The VWU will cooperate with the agencies and organizations to keep providing the most practical supports to help border communes to improve socio-economic conditions and facilitate to support female students o­n their o­ngoing learning path.
Representing the female students who received scholarships in 2019, Ms.Truong Thi Toi, a student of 12A4 Class, Ha Quang High School, expressed her appreciation to the women's unions at all levels and the US non-governmental scholarship program for their special attention. These meaningful and humanistic scholarships would help them partially cover their study expenses and continue going to school.
Speaking at the ceremony, leaders of the two communes sincerely thanked for the concern and practical support of the VWU for the two communes in general and the female students in particular; and also hoped that the VWU would continue supporting the local and female students in the coming time.