Opportunities for Women's Business Start-up
On 21st October, the Women's Entrepreneurial Centers of Resources, Education, Access, and Training for Economic Empowerment (WECREATE) was launched with the attendance of the VWU Vice - President Nguyen Thi Tuyet, the U.S. Ambassador to Vietnam Ted Osius and WECREATE Executive Director in Vietnam Nguyen Thi Tuyet Minh. The WECREATE Center, sponsored by the U.S. Department of State, will serve as an entrepreneurial community center for women to start or expand their business professionally, creatively and safely.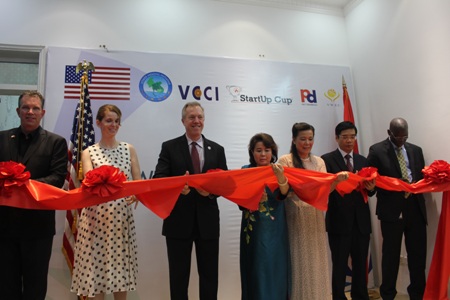 According to Mrs. Nguyen Thi Tuyet Minh, accounting for 51% of population, Vietnamese women are leading 25% of over 500,000 enterprises in Vietnam. So opportunities for women's business start-up are many. However, there still remain a lot of gender barriers. Thus, the establishment of WECREATE Vietnam providing women with safety to connect, exchange and learn from o­ne another will promote and inspire those who are longing for business start-up and just enrichment. Investment in women is investment for community because women are persons deciding to spend income o­n education for children, family nutrition and healthcare and other social fields.
Agreeing to her opinion, VWU Vice-President Nguyen Thi Tuyet stressed that promoting women's economic potential is a powerful tool to promote economic growth and prosperity. Though business women make a crucial contribution to the strength of the economy, they usually face with barriers. Women who start or manage business are facing with more difficulties than their counterparts because they have to conduct all men's tasks as well as theirs and balance their work with the family life. They also have other difficulties such as lack of business knowledge and skills, opportunity of access to capital, market, network connection and lack of coaching. The VWU welcomes this practical initiative and believes that with efforts of concerned parties, especially the coordination role of the Vietnam Women Entrepreneurs Council, WECREATE will be successful in Vietnam helping promote Vietnamese women's advancement in general and Vietnamese women-owned enterprises in particular.
Le Thi Tuyen – a young woman having passion for business said: "with passion for business start-up, when I know the WECREATE's presence in Vietnam, I am very excited as it is the first place where I can come to realize my start-up dream. The field I choose to establish my business is food safety. With WECREATE's help, I believe I will soon succeed."
WECREATE Center also houses the Start-up Academy - a capacity building program for women business-owners which supports them to transition from operating in the informal economics to formally registered companies.
Ngu
Binh - Vietnam Women's Magazine, Translated by VWU's IRD