1500 Vietnamese stranded overseas by COVID-19 receive assistance to get home
As countries around the globe close up their borders to confront COVID-19 pandemic, more than 1,500 Vietnamese stranded overseas have safely returned to Việt Nam with the support of the country's diplomatic missions overseas.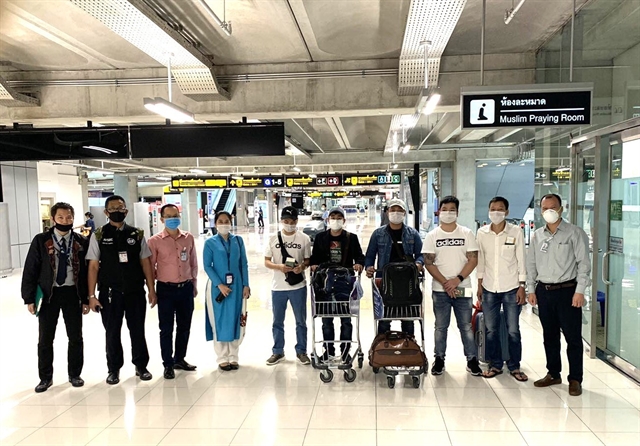 Seven Vietnamese citizens stranded in Bangkok's Suvarnabhumi international airport have received support from the Vietnamese embassy in Thailand to return home on Thursday. — VNA/VNS Photo
The information was disclosed by foreign ministry spokesperson Lê Thị Thu Hằng during Thursday's press briefing.
But she said there were still a number of Vietnamese citizens – including workers and students – remaining stuck in airports in foreign countries due to their host countries' increasingly restrictive policies on immigration and emigration, which might cause airlines to adjust flight schedules last minute.
"To my knowledge, some Vietnamese citizens are experiencing problems with their stay and visas, since they couldn't find a flight home," Hằng said.
Vietnamese diplomatic missions overseas have been co-operating closely with international airlines and local authorities to resolve visa issues, ensure medical care, and provide the stranded citizens with essentials, as well as help them find the appropriate flight back to Việt Nam.
"However, it's worth saying that Vietnamese representatives in foreign countries cannot resolve all the issues that prevent citizens from returning home," Hằng said.
In line with instructions from the Vietnamese Government and Prime Minister Nguyễn Xuân Phúc, Việt Nam diplomatic representatives overseas might start arranging repatriation flights for certain citizens, with priority being the elderly, sick people, and children under 18 years old, keeping in mind the available capacity of quarantine sites in the country.
Starting March 21, Việt Nam has introduced a mandatory 14-day quarantine for all arrivals into the country as the majority of detected COVID-19 patients in the country have been imported cases.
"For a few Vietnamese that do not possess personal identification papers or a valid labour contracts proving their work overseas, legal procedures involving Vietnamese and foreign authorities will be undertaken to come up with appropriate measures," the Vietnamese foreign ministry's official said.
"Việt Nam always strives to bring about favourable conditions for its representative offices in foreign countries in providing assistance to Vietnamese citizens," Hằng said, adding that in recent times, Việt Nam had helped in arranging a number of flights to repatriate foreigners in Việt Nam and would continue to do so in line with the country's regulations and anti-pandemic measures. — VNS